Trebas Institute Grad, wins Grammy !
by David Leonard

Education in the Film, Music and Event planning industry .

Mike Piersante, Recording Engineer/Mixer, a graduate of Trebas Institute, won two of the most important "GRAMMY" Awards (February, 2009), "Record of the Year" and "Album of the Year". Mike was the Engineer/Mixer for the track "Please Read The Letter" from the album "Raising Sand" performed by Robert Plant (of Led Zeppelin) and Alison Krauss. This unusual recording and combo of artists was produced by the legendary T. Bone Burnett. The single track won the GRAMMY for Record of the Year. The second GRAMMY Award that the Trebas Audio Engineering graduate, Mike Piersante, won is for recording the album, "Raising Sand". This will not be Mike's first GRAMMY Award since, in 2001, he was honored with the GRAMMY Award for recording/mixing Alison Krauss & Union Station's motion picture soundtrack and album "O Brother, Where Art Thou?" Mike works regularly with T. Bone Burnett at the latter's studio in Los Angeles. Mike has also done music recording and mixing for several other motion pictures including "Across The Universe", "Happy Feet" , "Cold Mountain", and "Walk The Line" for which he won the GRAMMY Award for Best Compilation Soundtrack for Motion Pictures, Television, or Other Related Media.
One of the first colleges in North America to offer training and education in the music business, the recording arts and sciences, and audio engineering & production, Trebas Institute has been a leader in developing advanced curricula for the industry. Thousands of students have gone through the academic programs at Trebas and many graduates have done extremely well. However, it is rare for anyone to win the "big prize", the prestigious GRAMMY Award, or the Juno Award for outstanding performance or production in Canadian recorded music, which several Trebas grads have won in the past.
Mike Piersante is not the first Trebas graduate to win a GRAMMY. Jeremy Harding, artist manager/producer/songwriter/ publisher/recording engineer, won the GRAMMY Award for his dancehall reggae recording artist, Sean Paul, a few years ago. Jeremy graduated from Trebas Institute in 1989 and had a GRAMMY winning hit "Who Am I" with his artist, Beenie Man.
Trebas graduates have won over a dozen GRAMMY Awards over the years, a major accomplishment for a career college that has been around for over 30 years.
"It is the intensity, comprehensiveness, and focus of the courses (towards the needs of the industry) that produce such a high calibre and quantity of successful graduates," says David P. Leonard, President and Founder of Trebas Institute. "Of course, we're proud of all of our grads for their hard work at the Institute and for their resultant achievements, but it is especially rewarding to hear about our graduates who are recognized by their peers, at the highest level, such as Mike Piersante and Jeremy Harding. I am thrilled to hear this incredible news and I congratulate our graduates for their achievements. When prospective students come to the college for their first interview and ask the Admissions Counsellor whether or not there will be a job for them after they complete their studies, the most honest answer we can give is 'Yes, there's a position for anyone who wants it badly enough, provided you put in the extreme effort required to acquire the knowledge, skills, and professional attitude necessary to succeed; it takes passion, focus, and a modicum of talent in the respective field to succeed'"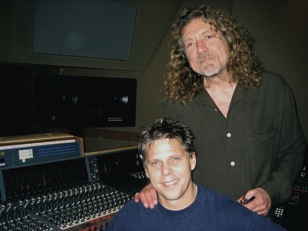 Robert Plant with his GRAMMY Award winning recording engineer,
Michael Piersante, Trebas Institute graduate.
Trebas Institute has campuses in Toronto and Montreal, with fulltime, one-year Diploma programs in Audio Engineering & Production and DJ Arts, Entertainment Management, Film & Television Production, and Event & Venue Management." Trebas instructors are working professionals in the industry, which helps to keep the course material "up-to-date" to meet the current and future needs of the music, film, television, and event management industries," says Leonard. For further information concerning details of the Trebas curriculum, instructors, successful graduates, and Trebas special events, check out the Website at www.trebas.com or contact the Admissions Department at either campus.